Well, not sure if you've noticed, but the blog has been quiet lately… After the twin session I had a bit of a break from work and  a little pre-labor maternity leave. Our scheduled induction was actually pushed back an additional week, so instead of 7-1, he now has a much cooler birthday of 7-8-09!!  He decided to make his entrance the most memorable, but quick one yet. Of course he gave us quite a scare when the nurse (yes, the nurse delivered him – I said it was quick!) realized his cord was wrapped around his neck 3 times! He's now making up for it and being the most perfect baby. We have truly been blessed. I just stare at him all day. Both big brothers are just as in love – they are so sweet and gentle and just want to kiss on him and cuddle and tickle his toes. It melts my heart!! 
He's now 10 days old and I still can't believe it. I know he will be our last, so I'm just trying to soak in all of the wonderful newness and never forget a second of this precious time. They grow SO fast — our oldest is closing in on 4 and having his birthday party tomorrow… Not sure how THAT happened so fast!! 
So many photos to share!! 
My newest little man…. So sweet!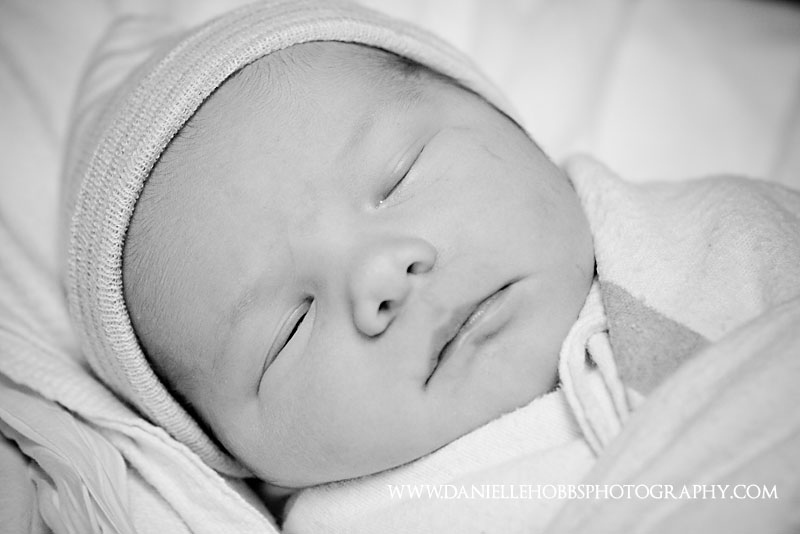 Me and my guys…. Not a perfect portrait, but this is our life and I wouldn't have it any other way!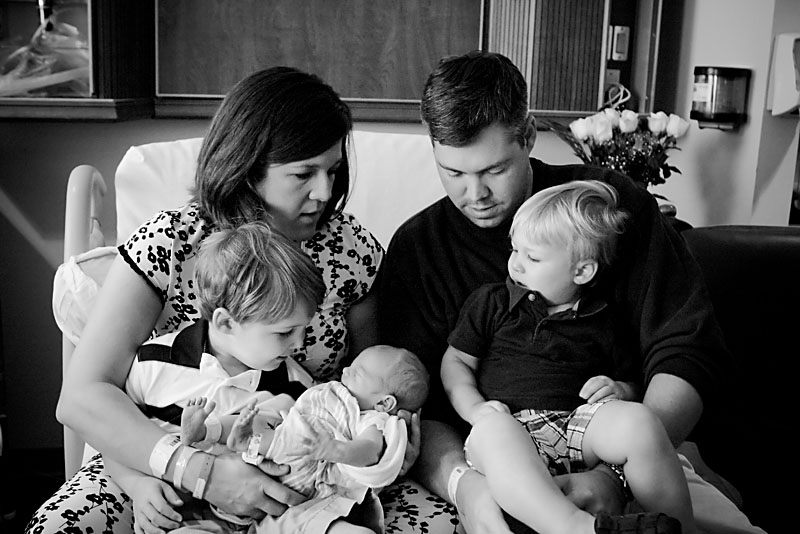 I knew that I couldn't be holding the camera and pushing at the same time, so I knew that I had to have a birth photographer this time! I really wish I had done the same for my other boys, but knew that since this was the last, I had to get someone there to capture those moments that would seem to be a blur. I had planned for my friend and Augusta, GA photographer Kimberly Kyle to be there, but sadly the day before my induction she ended up in the ER with appendicitis and had to have surgery!! (I said he made his entrance interesting!) I spent all morning putting emails out to photographers in the area grasping at the chance they may be available and willing to drive to me the very next day! I lucked out and got in contact with Amanda Westhart of Westhart Photography who kindly rescheduled two sessions for that day in order to be there to capture the day for us!! I cannot thank her enough! The images are amazing! She has posted a few to her blog so check them out… 
One of my best friends from high school, Emily, is a very talented photographer in Atlanta, GA. She came up on Wednesday and we got to play with our new little model 🙂 He of course is already a typical photographer's child and was WIDE AWAKE for the first 1.5hrs she was here – until sundown of course! We finally got some the next day – if only all sessions were overnight-ers and allowed a second chance! 😉  Click here to see our sneak peek on her blog. 
I'm sorry I've been missing… Not only do we have this new little guy running our lives, but we are also in the final process of the move to AL. We are packing up next week and should be moving in the last week of this month. The time has gone by way too quickly and I think I'm still in denial, so it hasn't hit me yet.